The Brownstone Detectives' stock-in-trade is our House History Book.
We take pride in the research behind – and the building of – each House History Book. Your House History Book will be a bespoke historical document vividly detailing the specific record of your home and the people who lived there.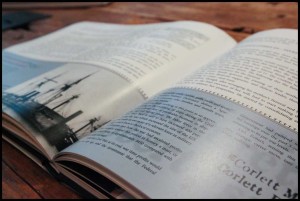 When you commission us to create your House History Book, we will embark upon an exhaustive search through the archives of city agencies and historical societies, review census records and newspaper archives, and conduct searches wherever our clues lead in order to uncover the materials and records specifically related to the lineage of your home and its former owners.
OUR HOUSE HISTORY BOOKS
We offer two discrete variations of House History Book to fit the budgets and the preferences of any homeowners. Both are bespoke, professionally crafted products that become a proud keepsake to be displayed on the coffee table of any historic home.

1. Our PRESENTATION House History Book: Our Presentation House History Book is professionally bound in a durable, hardback, 8 1/2″ X 11″ portrait orientation format, running up to 40 pages in length. The Presentation Size book is laid out chronologically, using Microsoft Word's colorful layout tools, and is laser-printed with a color cover graphic. The research, writing, layout and production for the Presentation Size House History Book takes approximately 1-2 months of exacting detail to produce the final product.
2. Our COFFEE TABLE House History Book: Our Coffee Table House History Book is library-bound and published in a durable, hardback, 11″ X 13″ landscape orientation format, starting at 50 pages in length (and running upwards of 150 pages in length, depending upon your preferences). This size book is professionally laid out by our graphic designer, utilizing a high quality matte paper and a singularly designed cover featuring our graphic artist's detailed rendering of your home.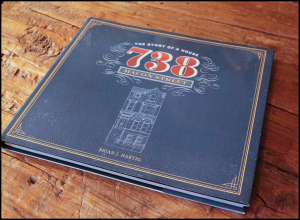 Depending on the length of your coffee table House History Book, its research, writing, layout, and production generally can take between 6-8 months of very exacting attention to detail. This process culminates in a final product that will complement and add value to your home. (Click HERE to see excerpts from the inside of some of our House History Books.)
OUR PRICING
Since no two houses are alike, we look to the age of your property to the gauge the amount of historical information likely available to us as well as the amount of research that will be involved. This helps us to determine the approximate page-count of your House History Book as well as our cost to produce it for you.
1. PRESENTATION: Our Presentation House History Book comes in two types. The first type covers the complete history of your house back to the day it was constructed. This costs a flat $750. The second type includes a history of the ownership of the land that your house was built upon – starting with the arrival of the Dutch in the 1600s. This costs a flat $975. (For houses built before 1870, there is an additional charge of $200).
2. COFFEE TABLE: Our Coffee Table House History Book starts at $4950 for a professionally laid out and bound 50-page book. The page-count of the book increases in tandem with its price, which depends upon the content you would like included in your book. Examples of this are a census analyzation for your block/neighbors, the search for former owners and descendants of owners for personal stories and photographs, the search for notable/famous neighbors, a property timeline delineating its ownership with the occurrence of events, forewords, introductions, and the like – all of which you chose during the design phase of your book.
OUR PROMISE
Our promise to you is simple:
We will work with you to determine the House History Book that satisfies your wishes and fits within your budget.
Contact us today with your home address to discuss creating a House History Book for your home.