Every house has a compelling story to tell.
Have you ever wondered the story behind
YOURS?
Like the cracking of a cold case mystery,
The Brownstone Detectives
investigates the history of your house. We'll track down every available fact, story, person, photograph, and official document until – with all of
the evidence laid out before us – we've solved its mystery.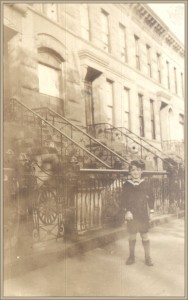 With the information we uncover, the story of your house will be laid out in a professionally written and designed hardbound House History Book.
We've uncovered stories of Baseball Hall of Famers, murderers, Civil War heroes, unexplained fires, explosions, deceit, corruption, unrequited love, and much, much more.
House History Books run on average from 50-100 pages each, and are filled with pictures, colorful tales, maps, original architectural drawings, official government documents, and previously long-lost information about your house and the people who lived there.
We'll research any Brooklyn house, structure or property, regardless of its age or type. Brownstones, limestones, wood-frame houses, factories, vacant lots – you name it – we'll investigate its history!
Consider a House History Book for your home – or as the perfect surprise gift.
Every house has a compelling story to tell.
Let the Brownstone Detectives unlock the history of
YOURS.