A HEART FROM BED-STUY'S GIANTESS (1898)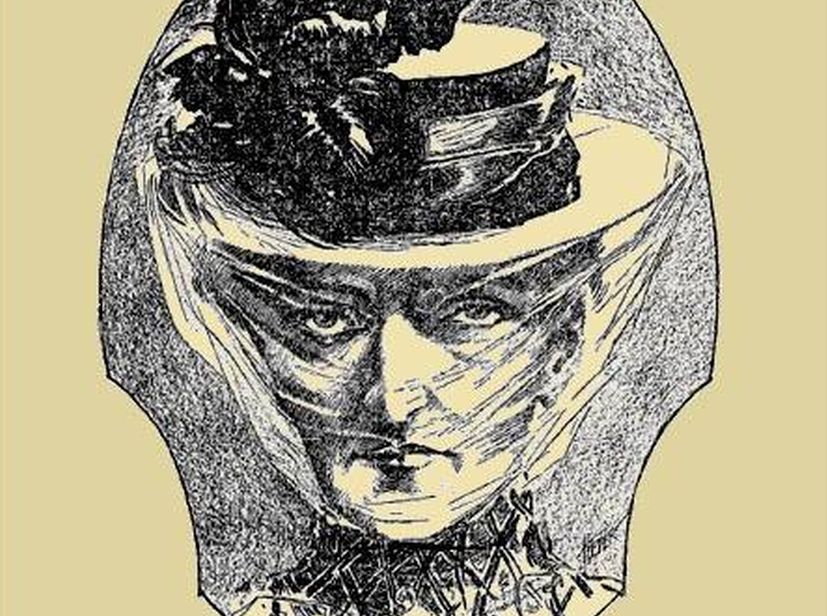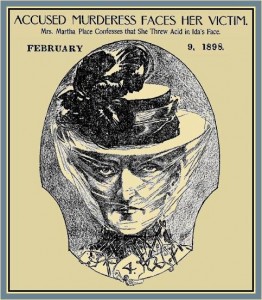 The history of Bedford-Stuyvesant embraces many giants. There is Jackie Robinson, Jackie Gleason, and Chris Rock, just to name a few.
Bedford-Stuyvesant, though, probably claims only one giantess. It most certainly claims only one murdering giantess – and, no doubt, claims the first murdering giantess to be put to death in the electric chair.
Martha Place, who lived for a time in a brick townhouse at 598 Hancock Street, was that giantess. She stood 6 foot 7 inches tall and – around Valentine's Day of 1898 – had become the talk of Stuyvesant Heights.
But her popularity was not due to her loving, endearing ways. Quite the opposite. It was because she had committed such a brutal murder that year that the State of New York considered, for the first time, putting a woman to death in their new-fangled electric chair.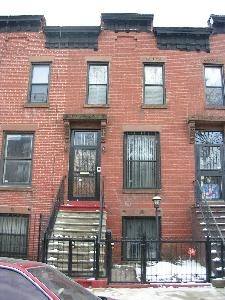 The electric chair had been adopted by the State of New York just ten years previous. And in the decade to follow, just 25 men had been executed with it. This would be the first time, though, that "Old Sparky" would snuff out the life of a woman. Indeed most people could not believe it was about to happen.
A jealous and volatile woman, Martha had had the "temper of a tigress." And so it was, when her husband, William, an insurance adjuster, returned home to 598 Hancock Street one night in February of 1898, that he was confronted by Martha swinging an ax.
To utilize a phrase from the lexicon of the day, Martha had gone slightly "off her trolley." And confronted with an ax-wielding giantess of a wife, a confused and stunned William absorbed several blows to the skull from this blunt instrument before escaping to the street, bloodied and stupefied.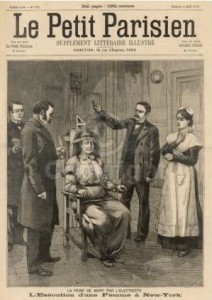 By the time the police responded and stepped foot into the house, however, they would find William's 17-year-old daughter, Ida, with her mouth bloodied and her face disfigured by what seemed to be acid. Martha, herself, was lying on the floor with the folds of her long skirt pulled over her head and the gas jets turned full on.
"That part of Brooklyn in the vicinity of Hancock Street was on the tiptoe of curiosity all day yesterday. There were seldom less than 500 people around the house," remarked Pulitzer's newspaper, The World, the day after the crime had been committed.
And The World would continue to stalk Hancock Street for several weeks to come, looking for colorful copy and interviewing Martha's neighbors in order to supplement the lurid details of the case.
"After school hours, hundreds of girls and boys collected: there were women in fine clothes, some of them wheeling infants in carriages, and others carrying babies in their arms or attended by nurse girls," The World continued.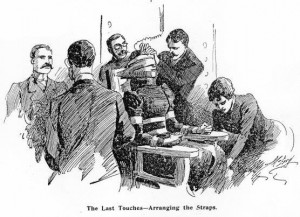 One could almost see, today, this scene unfolding on Hancock Street, as neighbors and lookers-on, made the trek daily and often to gossip with one another and to learn what new fact the police had uncovered in the case.
And by the time her court case had ended, and all of its shocking details had been feasted upon by the reading public, Martha found herself convicted of murder and sentenced to death in Sing Sing Prison. Not even Teddy Roosevelt – to whom her brother appealed – would give her a pardon (an act for which many Americans never forgave the president).
Having never executed a woman in the electric chair, those responsible for carrying out the death warrant devised a new way to place the electrodes upon her. They decided to slit her dress and place them on her ankles.
Her last words, before the switch was pulled, were "God save me."
And after the first jolt, the Hancock Street Murderess was gone.
———————————————————————————————————————–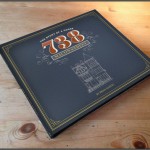 The story you have just read was composed from extensive historical research conducted by The Brownstone Detectives. It was a story uncovered in the everyday research that our clients commission us to preform on their historic homes, which culminates in the production of one of our celebrated House History Books. Contact us today if you are interested in bringing the history of your house to life.