THREE MEN AND A PIG (1892)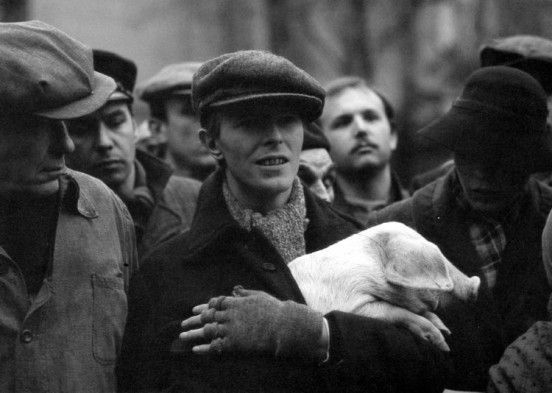 (The setting of our story: The Eastern District of Brooklyn back in 1892 was a far more rural place that it is today. Comprised primarily of Williamsburg, Bushwick, and, parts of Stuyvesant Heights, the "E.D.," as it was then called, was a semi-residential district filled with many small farmers living in frame houses and shanties, all of whom seemed to be living on the very edge of the world.)
"Three men and a live, squeaking pig passed through Union avenue this morning."
The pig in the story "was an involuntary member of the quartet."
He was in the process of being stolen.

"…(H)is shrill protests were heard by Policeman Farrington of the Nineteenth precinct, who traced the cries to the source. A man whom the policeman recognized as Thomas Farmer, Jr., of Union avenue and Frost street, was carrying a bag over his shoulder.
"Farrington," the story noted "gave chase and caught Farmer, who dropped the imprisoned pig on the sidewalk and showed flight. So desperate was his resistance that the officer was compelled to draw his club and a fierce fight of a few minutes' duration terminated in the complete subjugation of Farmer."
Apparently, the two companions of the aptly named Farmer had fled. But they would not be gone long.
"While the officer was taking his man to the station, and just as they were passing Farmer's house, the two men reappeared and assailed the policeman.
"Farmer, weak from loss of blood, dropped helplessly to the sidewalk as soon as Farrington let him go to defend himself from the assaults of the two other men, but while the second scuffle was on, Farmer's sister opened the hall door and helped her brother into the house. Then she shut and locked the door."
This whole scene brings to mind the lawlessness that certain sections of the E.D. presented in 19th century Brooklyn.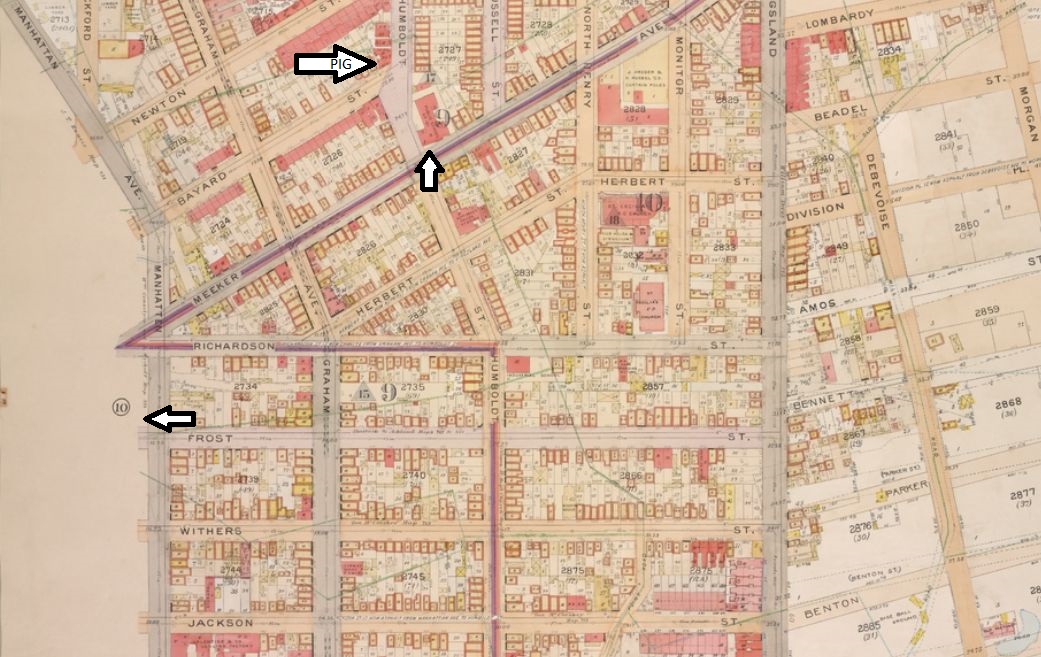 "Farrington drove off one of the assailants and captured the other. Then, finding that Farmer's door was locked he took the second prisoner to the Humboldt street station" (which was at No. 43 Herbert Street back then, corner of Humboldt and Herbert streets).
The man said he was James Walsh, 32 years old, of 393 Ewen street (now Manhattan Avenue).
Meanwhile the pig had gotten out of the bag and, like the sensible little fellow he was, trotted straight to the home of his mistress, Mrs. Sarah Burke of 314 Bayard street.
Mrs. Burke was very indignant.
After Walsh had been locked up, Policeman Farrington went back to look for Farmer. That young man, however, had fled from his home and was nowhere to be found. The police would continue to look for him.
Meanwhile, the pig was happily back home in the pen of its owner's backyard.
———————————————————————————————————————–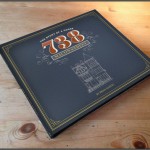 The story you have just read was composed from extensive historical research conducted by The Brownstone Detectives. We perform in-depth investigations on the historic homes of our clients, and produce for them their very own House History Books. Our hardbound books contain an illustrated and colorful narrative timeline that will bring the history of any house to life. Contact us today to begin discovering the history of your home.